TUAS and B2B selling in the spotlight in Asia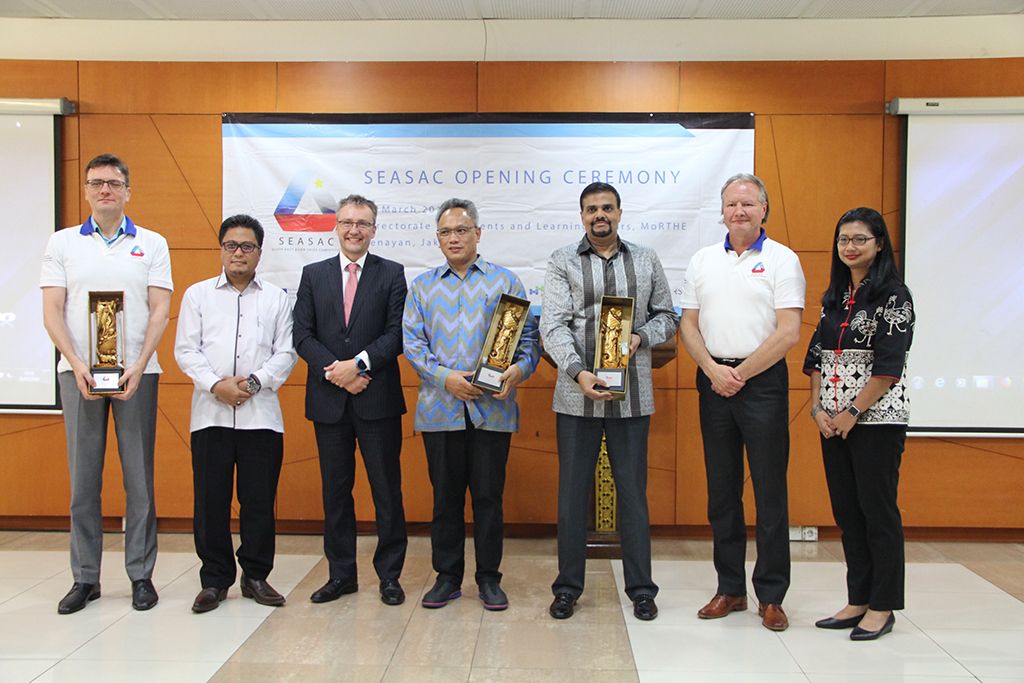 In the photo from the left: Rector and President Vesa Taatila (TUAS), Director Alpha Amirrachman (SEAMOLEC), Ambassador Jari Sinkari (Embassy of Finland to Indonesia), Director General Prof. Ismunandar (MoRTHE), Chairman Radju Munusamy (Jebsen&Jessen Indonesia Group), Head of the SEASAC Project Harri Lappalainen (TUAS), BINUS Global Director Diah Wihardini (BINUS University). Photo: SEAMOLEC. More photos from the event held in March can be found at www.seasac.eu/gallery.
---
The international "South-East Asian Sales Competition" project (SEASAC), which is coordinated by Turku University of Applied Sciences (TUAS), arranged an opening event on 21 March 2019 in Jakarta, Indonesia. The event was hosted by the Indonesian Ministry for Research, Technology and Higher Education (MoRTHE).
The majority of the participants in the SEASAC opening ceremony were rectors and presidents of Indonesian universities and CEOs of Indonesia businesses. From TUAS, Rector and President Vesa Taatila, Senior Lecturer Harri Lappalainen and Principal Lecturer Timo Holopainen attended the event. In addition to TUAS, Finland was represented by Tuula Korhonen and Timo Rima from project partner Haaga-Helia University of Applied Sciences, Finland's Ambassador to Indonesia Jari Sinkari, and Sena Yildirim-Tuoma, Desk Officer at the Embassy of Finland in Jakarta.
The festive event made a perfect ending to a busy week, during which the European B2B specialists working in the SEASAC project trained the teachers of the Indonesian and Thai partner universities.
The SEASAC project promotes competence in business to business sales in South-East Asia by utilizing the concept of the European Sales Competition, developed under the lead of TUAS. The concept puts into practice several cornerstones of innovation pedagogy.
Further information on the SEASAC project funded by the EU's Erasmus+ programme is available at www.seasac.eu and from the operative head of the project Harri Lappalainen (harri.lappalainen@turkuamk.fi).